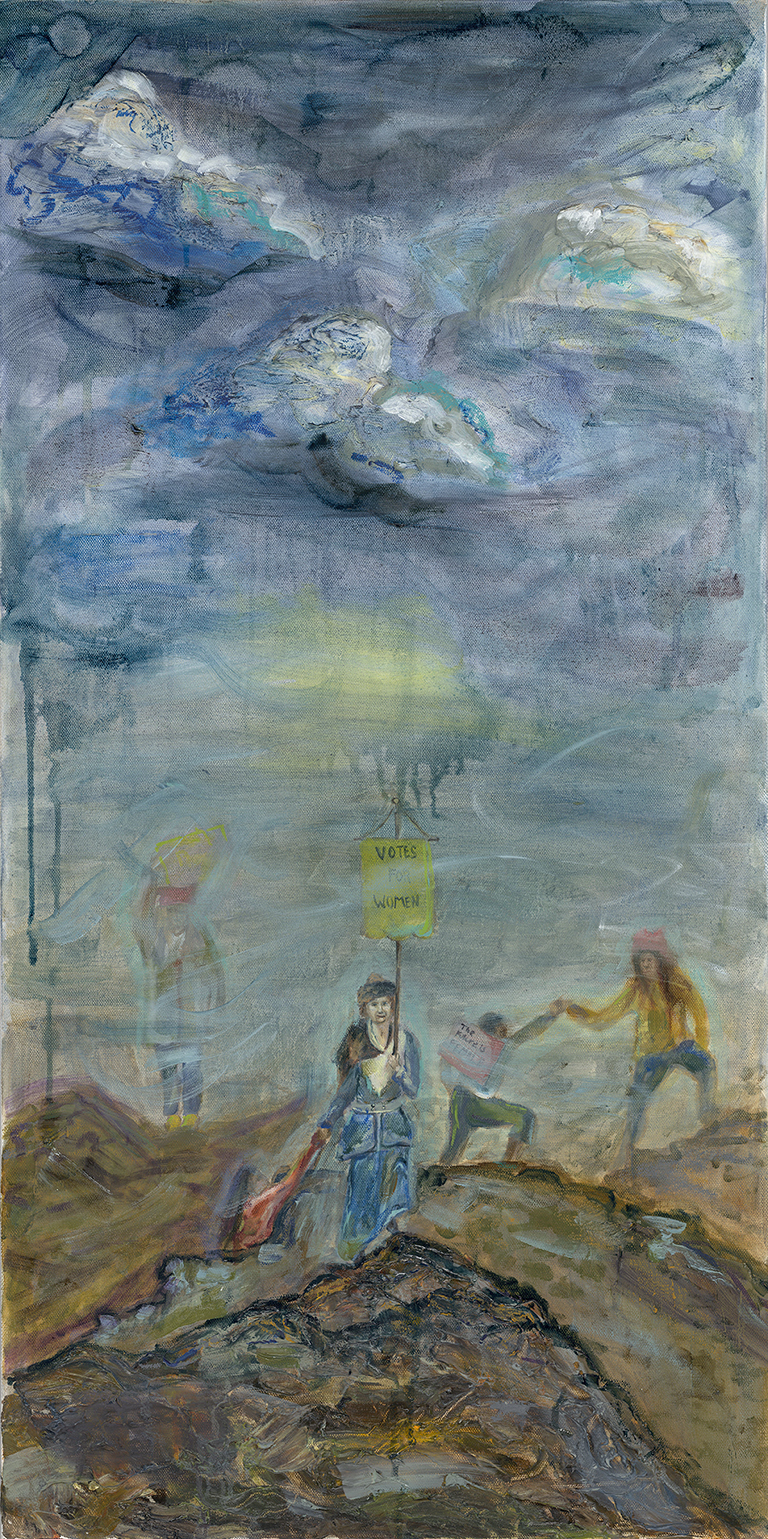 Artist's Statement
To make this work, I had to connect my life to Bertha Moller's in order to develop a strong personal connection with her as a subject. Thinking about the many forms of protest Berth Moller employed in order to earn the right to vote and improve human rights all around caused me to reflect on how protests and movements have played a part in my own life. Within social justice movements, women continue to be strong leaders and the initiators of human rights movements, but often do not gain long-term recognition.
I ultimately want to highlight my connection, as a modern woman, to Bertha Moller. My painting to draws parallels between her struggles and the struggles we face today. Bertha's life seems to be in the distant past, and foreign to our modern lives, in reality she faced many of the same struggles. As an activist she organized and protested with the same energy as activists today. Today women have followed in the footsteps of past suffragists by participating in marches, protests, and demonstrations across the country. The imagery in my work emphasizes how Bertha Moller continues to lead us from the past. Bertha Moller is painted with a higher level of realization than the contemporary women and is portrayed front and center.
Within social justice movements, women continue to be strong leaders and the initiators of human rights movements, but often do not gain long-term recognition.
We are currently faced with an unstable environment and many uncertainties. Many of the uncertainties we face today parallel those of 100 years ago. I created a metaphorical environment with my paint to reflect the struggles and uncertainties that women face. Layers of my paint create a stormy turbulent environment with the atmosphere swirling around the women, while small rays of sunshine peak out from the storm clouds, indicating the possibilities of the future. Bertha Moller leads a group of protesters over rocks and unstable ground. Although she rises above the rocky terrain and is foregrounded, she still has not been able to traverse through all of the rocks. The continued expanse of rocky ground points to all of the work yet accomplish in the fight for true equality for all. The layers of space behind the women demonstrate how far the work of women suffragists has come. Even though we often think of the work of suffragists as in the distant past, in this painting Bertha Moller is able to transgress time and lend a hand and her leadership to those who continue her work today.
Artist's Bio
Anika Schneider is a painter and recently received her MFA from Minneapolis College of Art and Design. For her undergraduate studies, Anika received a Bachelors of Science and double majored in Environmental Studies and Studio Art at Gettysburg College in Gettysburg, PA. Anika has been awarded the Trustees Scholarship as well as the Talent Incent Grant from Minneapolis College of Art and Design. Anika's work has been exhibited nationally at galleries such as Soo Visual Arts Center, Circle Gallery, Visarts, Rosalux Gallery, Dumbarton Concert Gallery, and Glen Echo Park Partnership for Arts and Culture. Anika has also participated in residencies in Wolfsville, Nova Scotia and Solomons Island, Maryland. This past summer, Anika served as a Windgate University Fellow at Arrowmont School of Arts and Crafts in Gatlinburg, Tennessee. Anika is originally from the suburbs of Washington DC and now lives in Minneapolis and enjoys exploring the Twin Cities with her boyfriend and active Australian Shepherd, Wolly.