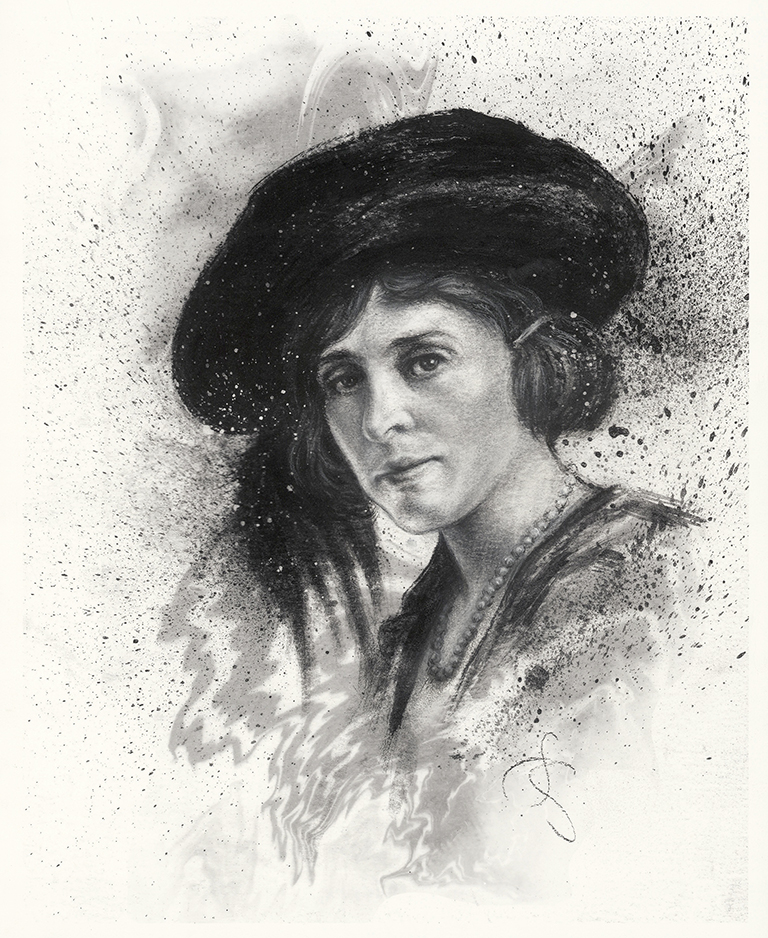 Artist's Statement
Nellie's absolute fearlessness caught my attention immediately in my research for her portrait. She was a woman not easily intimidated. I wanted this quality of character to come through in her portrait. My feelings of connection with and interest in Nellie are very personal. She was lived in the Frogtown/Rondo area. She went to church here and had a deep connection to this community and its people. She actively volunteered and participated in bettering the lives and educations of those around her including holding classes in her own home. I have been an educator for 20 years, the last several in the Frogtown area, just a few blocks from where Nellie's first home stood. I look to the young women especially in my classes and see how Nellie's efforts still have fruits today both in the surrounding community and for women on a larger National scale. She always seemed to have had an eye to the future, particularly how her efforts in the suffrage movement might contribute to the opportunities and liberties of future generations.
Nellie's efforts still have fruits today both in the surrounding community and for women on a larger National scale.
Pictures and visual imagery are the universal language. Where words often fail, visual art can communicate powerful ideas and feelings are not bound by the constraints of language and time. In approaching Nellie's image, I wanted a clear sense of her vibrant and undaunted personality to come through. She locks her gaze with the viewer's in a more direct pose, so that one might leave with the impression this is a woman who not only cared deeply for people but would also not be easily intimidated from her purpose. The wave like patterns of the ink washes as well as their energetic splatters in the background lend a sense of energy and unstoppable purpose which surround Nellie. This complements the solid and focused nature of the charcoal rending used for her portrait.
Portraiture is not the mere capturing of a likeness, it is a window into someone's very being.
Jennifer Soriano on her work
Artist's Bio
All good work tells a compelling story that both captures the imagination of its audience and draws them into the telling of their own related stories. Born in Cleveland, Ohio in 1975, Jennifer Soriano, grew up listening to her grandmother's stories of her childhood in St. Cloud, Mn, her grandfather's role in the modern treatment for Cystic Fibrosis and the stories of each of the children her grandmother and grandfather adopted in the 1950s.
She credits her grandmother's early stories and love of history with the beginning of her own fascination with people and the stories their faces tell. The personal histories of people and the reflection of their character through art, has been a predominate theme she strives to bring to life in her portraiture and illustrations. Listening, observing and reading about the lives of those she seeks to capture is an important part of the drawing process itself. It is a way to form a sense of who this person is and what drives their view of the larger world around them. Knowing the stories that form the life of an individual is what captures the heart of each person she renders. In turn, it can evoke a sense of empathy with viewer and their own sense of history and self.
Family, a sense of place and human connection are important to Jennifer.
When she is not drawing or teaching, she enjoys photography and hearing people's stories. Her four children and young grandson keep her busy with their stories and antics. She has been an active participant for over 14 years in traditional Okinawan karate and kobudo, during which time she has been privileged to practice alongside her children.
Jennifer received her BA in Studio Art from the University of Dallas in 1999 and her MFA in Illustration from Academy of Art University in San Francisco in 2018. She presently works as an art instructor at St. Agnes High School in St. Paul, MN but has been a fine arts instructor for over 20 years and professional illustrator. Her work has appeared in multiple exhibitions throughout Minnesota and the U.S. Her pastels, drawings and ink paintings have won awards, including the Minnesota State Fair and the American Advertising Awards for her work on the Barley John's Craft Brew label line.
Her work can also be found in several private collections within the United States. She also recently completed a collection of illustrations for her MFA with the theme, Shattering the Glass Slipper. as well as past paintings, drawings, and sketches on display in a solo exhibition entitled, Made in Her Image.