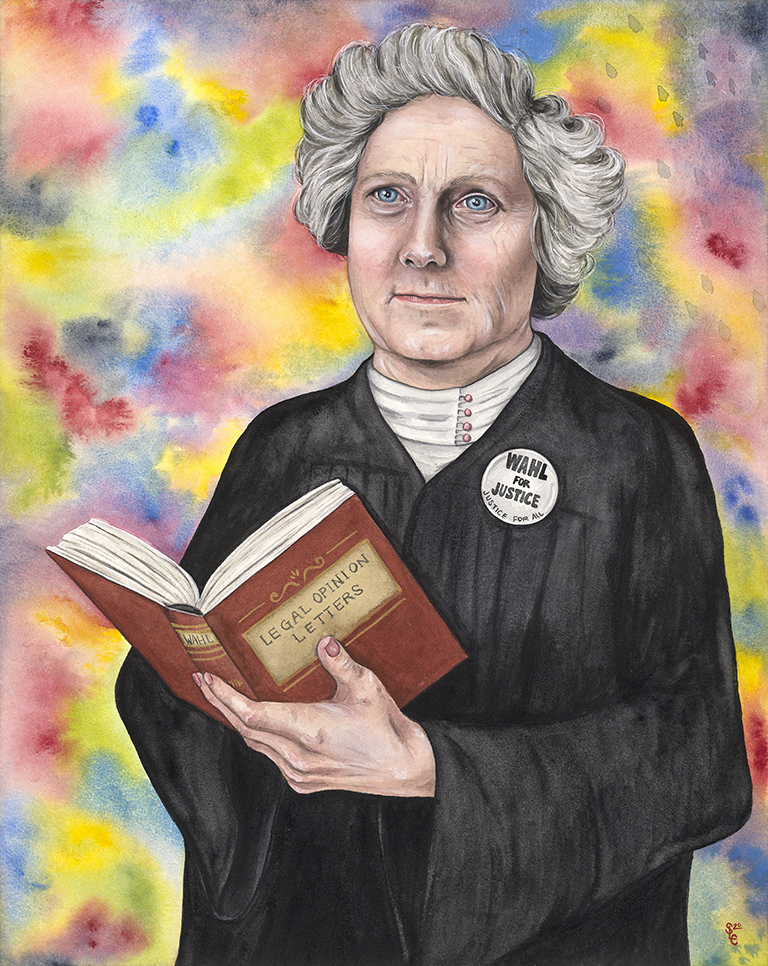 Artist's Statement
"I'm tired of sitting outside doors waiting for men to make the decisions."- Rosalie Wahl
Stacey Combs (AKA stace of spades) leapt at the opportunity to participate in Persistence. While she uses varied styles and subjects, Stacey is a portrait artist first and foremost. Often working with themes of social justice and inclusive feminism in her artwork, she draws attention to unfair and outdated social norms. Painting Rosalie Wahl for Persistence was a no-brainer for Stacey, as Ms. Wahl worked hard to address these same issues. Gender fairness, racial bias, and justice for all were cornerstones of her career, and are represented by the colorful background. The artist chose bold colors, intermingling to represent the fight for racial and gender equality.
Rosalie Wahl truly was a remarkable woman. Strong and compassionate, she cleared a path for many to follow.
Rosalie Wahl may be best known for being the first woman in state history named to the Minnesota Supreme Court. She was a trailblazer in the legal field, and authored 549 opinions for the court during her 17 years of service. She is shown holding a book containing these letters in this painting. She is known nationally for her work on the American Bar Association, headed up task forces that made major changes in the way Minnesota's court system dealt with women and minorities, and served as liaison to the court's Study Commission on the Mentally Disabled.
Artist Stacey Combs (stace of spades)
Artist's Bio
Stacey Combs (AKA stace of spades) is a fine artist and illustrator based out of south Minneapolis. She has been an artist in one form or another for nearly her entire life. She is self-taught, but has had a little help here and there.
Much of the work that she does is portraiture, with her primary mediums being watercolor, gouache, and ink. She paints landscapes and beer bottles as a fun way to document her travels. She also creates custom sentimental artwork for people, with some illustration work sprinkled in. On the more serious side, she often works with themes of environmentalism, social justice, and feminism. She uses this work to draw attention to unfairness and outdated social norms.
You can find Stacey all around the Twin Cities. She frequently participates in art fairs and hangs her work in various spaces from galleries to donut shops, and even billboards.
www.staceofspades.com
www.instagram.com/stace_of_spades
www.facebook.com/staceofspades
Music by Ryan Mach: www.ryanmachmusic.com/