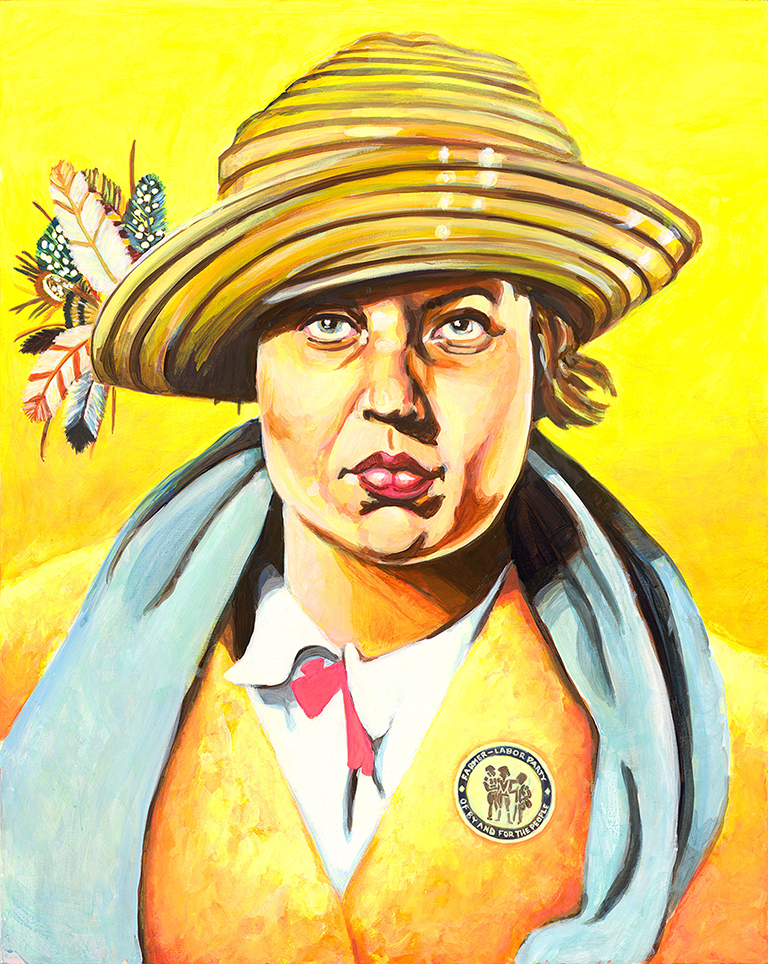 Artist's Statement
I am a narrator, depicting everyday objects, space, and portraiture. I explore the everyday by arranging personal subjects such as books, potted plants, crystals, and cats in domestic interiors or fictitious landscapes. I employ light, line and unapologetic color to draw attention to a female storyline with its power dynamics and curiosities. Inspired by a west coast aesthetic, my vibrant palette often includes fluorescent pigments, creating a disquieting scene. I bring these still moments to life with this state of intensity, heightening the narrative and time stamp in contemporary culture. My paintings are a rebuke to the current moment. They transcend it while at the same time address a past of women artists being left out of (art) historical documentation.
Myrtle Cain was one woman who made a small ripple in her community but whose legacy lives on and confronts us to continue it.
This portrait of Myrtle Cain reimagines her in a contemporary context. The vibrant colors enliven her to the present moment. Her gaze is directed at the viewer, defiant and unapologetic. Her work advocating for equal rights and unmasking white supremacy is far from over.
Instagram: https://www.instagram.com/younkinstudio/
Twitter: https://twitter.com/MaryYounkin
Website: https://www.maryyounkin.com/
Facebook: https://www.facebook.com/SweetYounk
Artist's Bio
Born in 1982 in Fountain Valley, California, Mary Younkin began creating art as a response to the cultural millieu of Southern California. An obsession with writing, collecting objects, responding to religion and the monotony of the suburbs created the framework for her life as a visual artist. Fueled by a rebellious feminist spirit, Mary creates visual narratives using everyday objects, interior architecture and portraiture. She employs a bright, playful color palette inspired by a west coast aesthetic.
Mary received a BFA from the California College of the Arts and an MFA from Parsons The New School for Design. She is a recent recipient of the New York Artist Fellowship with Wet Paint NYC and was an artist resident with Openings in Lake George, New York. Her work has been exhibited widely on the east coast, most recently with La Bodega Gallery, Ground Floor Gallery, Living Gallery Outpost and the Superfine! Art Fair, among others. A collection of her paintings are currently represented by Collective 131.
She currently lives and works in the Greenpoint neighborhood of Brooklyn, NY.