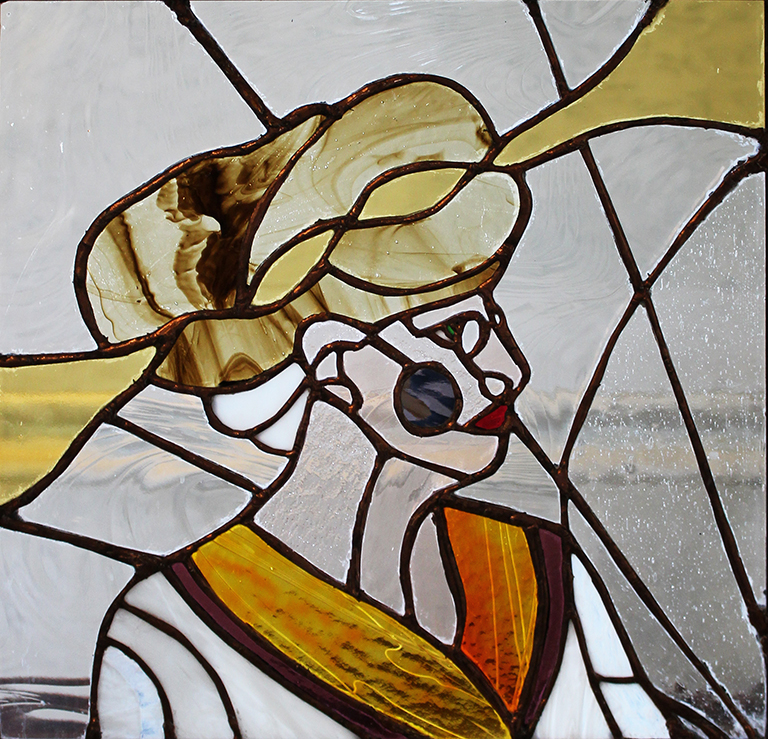 Artist's Statement and Bio
I was drawn to stained glass at a very young age. Growing up in an artistic family gave me a life-long appreciation of art. I use stained glass as an outlet for creativity and the glass often as inspiration, it's ever-changing; it's kinetic. The light and color changes depending on the surroundings and gives measureless ways to connect with each piece.
Stained glass is about light and color and the feelings they evoke. I add a modern touch to a centuries-old art form to make it my own through custom patterns and thoughtful use of color and texture.
Stained glass is a huge passion of mine I love pushing my art with custom patterns, intricate and modern designs; it inspires me on a daily basis. Creating contemporary portraits in glass which brings out the personality of each subject is especially exciting to me. For this exhibit, I hope to portray Clara in a unique way that will draw audiences in to learn more about this visionary woman's life and how she helped shape the history of Minnesota.
A 2018 City Pages article about Clara Ueland written by Hannah Jones, stood out to me and left me wanting to learn more; "Minneapolis suffragist Clara Ueland was more badass than you, probably".
Clara Ueland WAS a badass; a Pioneer in many ways. She fought for equality, equal rights, women's and children's rights and envisioned a time in which a woman could be president; she was a true visionary. Clara turned the suffrage movement in Minnesota around, she righted the boat and steered us to victory. The work of Clara and the rest of the suffragists of her time is celebrated but never ending.
As an artist, I will bring Clara's contributions to life using a non-typical medium to portray this extraordinary woman from our history. Using the Tiffany-style of stained glass, I will create a stylized portrait that will evoke emotions and build a personal connection to her.
www.theglassflamingo.wordpress.com
www.theglassflamingo.wordpress.com/newsworthy