In 1989, Governor Rudy Perpich proposed a state commission to study adding sexual orientation to the proposed Human Rights Act, which did not pass. Governor Arne Carlson issued an Executive Order prohibiting discrimination on the basis of sexual orientation in state employment in 1992, which led to amending the Human Rights Act in 1993, following "It's Time Minnesota" campaign.  This Act prohibited discrimination on the basis of sexual orientation and/or gender identity in housing, insurance, goods and services, contracts, health benefits, hospital visitation rights, and employment. The law did not apply to religious organizations, youth groups, or certain small businesses.
In 2012, an amendment to the Minnesota Constitution was added to the election ballot, which would have defined marriage as an institution solely available to couples of one man, and one woman. It was defeated at the polls. In 2013, the legislature passed a marriage equality law, paving the way for couples of all orientations to legally marry in Minnesota. It was signed into law by Governor Mark Dayton on the Capitol lawn. Finally, in 2014, the legislature passed, and the governor signed, the Safe and Supportive Schools Act. This act is designed to protect LGBT students at school.
Featured image: PRISM Campus Alliance from St. Paul College marched in the Minneapolis Pride parade in June 2019. Minneapolis Star-Tribune file, Nicole Neri.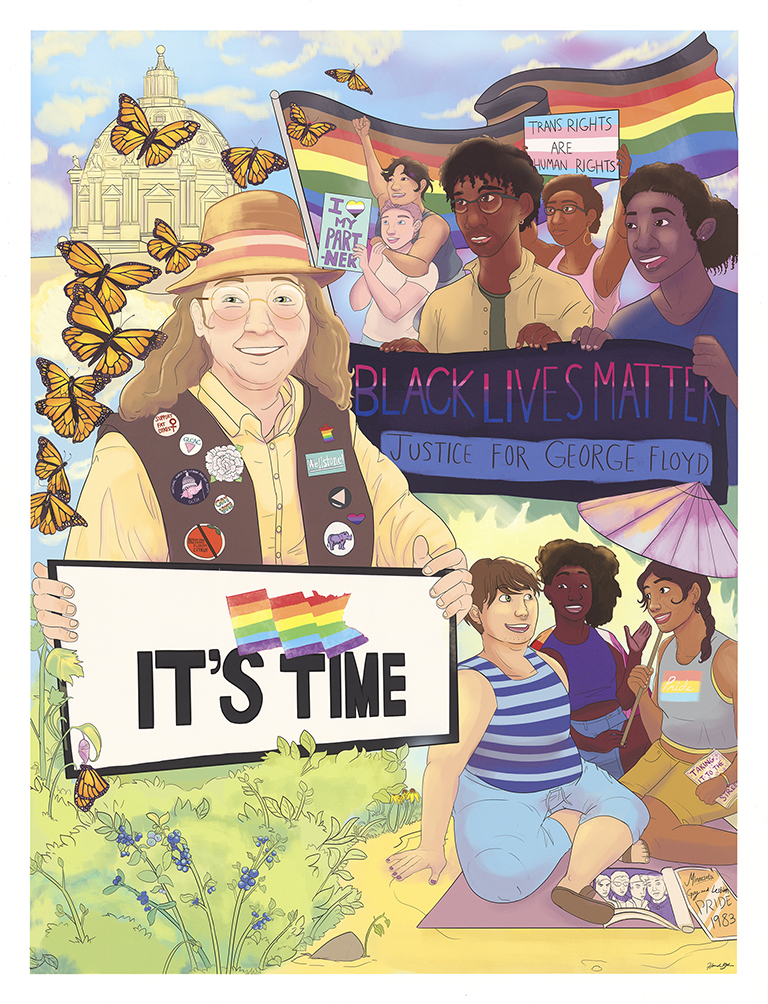 B. J. (Barbara Jean) Metzger
Barbara Jean "B.J." Metzger (1952- ) is a well-known and respected LGBTQIA and DFL activist in the Twin Cities.  Her political activism began as a student leader at Alexander Ramsey High School, where she led a student walk out that closed the school for two days in support of teacher's rights. Following college, B.J. returned to the Twin Cities and worked as a leader in the LGBT community after the Human Rights Ordinance in St. Paul was repealed in a two to one vote in 1978. In response to this loss, she organized a March on Washington in 1979.
To B.J. Metzger, "the issue is equality."
In interviews, B.J. stresses that Minnesota has always had strong gay rights activism and serves as an example for other cities and states.  In 1991, after years of work in numerous task force efforts, the Human Rights Ordinance in St. Paul, which included sexual orientation and sexual identity, passed two to one. In response to Mayor George Latimer's question, she assured him that St. Paul had changed its mind on the issue.  During this same time, she also ran Karen Clark's election campaign. Clark served as an openly gay member of the Minnesota legislature from 1981-2018.